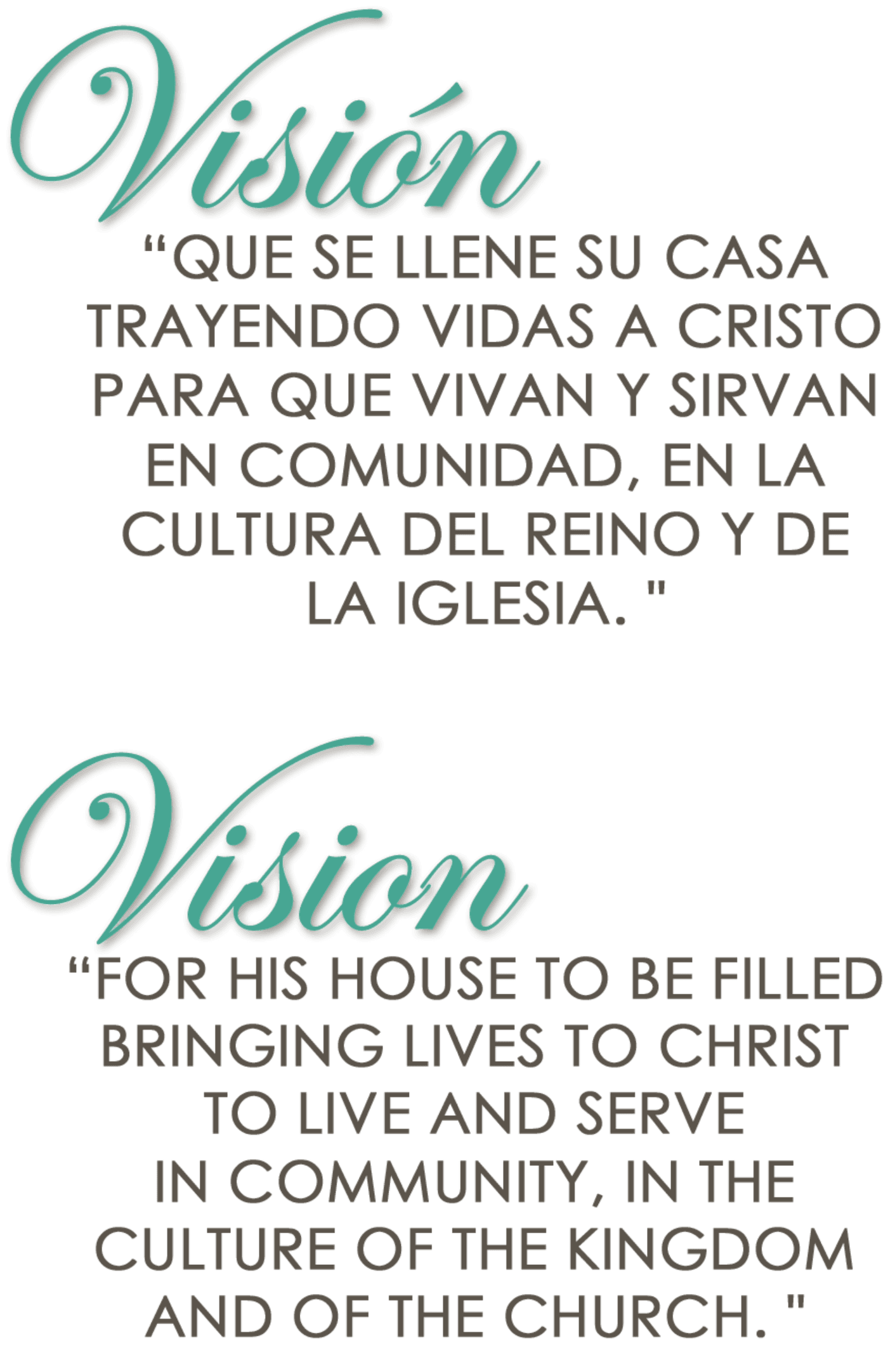 Cultura Sinaí | Sinai Culture
Estas son las características que describen el corazón de quien somos como iglesia. | These are the characteristics that describe the heart of who we are as a church.
GRACIA | GRACE
Creemos en vivir en la gracia de Dios, la cual nos da la libertad de ser nosotros mismos y construir una comunidad autentica. | We believe in living gracefully, which frees us to be ourselves and build an authentic community.
HUMILDAD | HUMILITY
Creemos que todo lo que somos y tenemos proviene de Dios y que debemos de vivir esta vida con un corazón humilde. | We believe that everything we are and have comes from God and that we should live this life with a humble heart.
SERVICIO | SERVICE
Creemos en dar nuestra vida al servicio de Dios y los demás. | We believe in giving our lives in service to God and others.
HONOR
Creemos en dar honra a Dios con nuestro estilo de vida y honrar a los demás como Dios nos ha honrado a nosotros. | We believe in honoring God with our way of life and honoring others as God has honored us.
OBEDIENCIA | OBEDIENCE
Creemos que la forma mayor de mostrar nuestro amor hacia Dios es a través de vivir en obediencia a Él y a Su Palabra. | We believe that the greatest way to show our love for God is through living in obedience to Him and His Word.
GRATITUD | GRATITUDE
Creemos en tener una actitud de gratitud profunda y sincera la cual se muestra en nuestro estilo de vida. | We believe in having an attitude of deep and sincere gratitude, which is shown in our lifestyle.
FE | FAITH
Creemos que por la fe recibimos el poder de Dios para realizar Su propósito en nuestras vidas y obtener victoria contra los ataques del enemigo. | We believe that by faith, we receive the power of God to fulfill His purpose in our lives and gain victory against the attacks of the enemy.
GENEROSIDAD | GENEROSITY
Creemos que la generosidad es un valor y un rasgo de la personalidad caracterizada en el ayudar y servir a los demás de un modo honesto sin esperar u obtener nada ha cambió; sino darle Gloria a Dios. | We believe that generosity is a value and a personality trait characterized in helping and serving others in an honest way without expecting or getting anything in return but to give glory to God.
INTEGRIDAD | INTEGRITY
Creemos que nuestra vida debe reflejar una vida de integridad en todo momento representando el carácter de Dios al mundo. | We believe that our life should reflect a life of integrity at all times representing the character of God to the world.
EXCELENCIA | EXCELLENCE
Creemos en hacer nuestro trabajo para el Señor en un espíritu de excelencia en nuestra vida personal y ministerial. | We believe in doing our work as for the Lord in a spirit of excellence in our personal and ministerial life.
DESCANSO | REST
Creemos en vivir una vida en descanso que solo se puede encontrar en Dios, y al hacerlo, recibimos paz en todo momento. | We believe in living a life in rest, which is only found in God, and in doing so, we receive peace at all times.
MENTALIDAD GENERACIONAL | GENERATIONAL MENTALITY
Creemos que como cuerpo de Cristo nuestra responsabilidad es de establecer el Reino de Dios para esta generación y preparar a las siguientes generaciones a continuar la obra. | We believe that as the body of Christ, our responsibility is to establish the Kingdom of God for this generation and prepare the next generations to continue the work of the ministry.